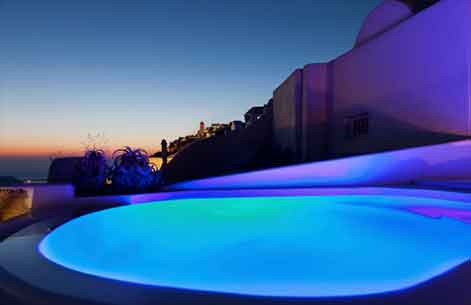 Brighten up your summer by adding different lighting features to your backyard. Between your pool, stairs, spa, house, and gardens, strategic backyard lighting  can take your backyard from ordinary to extraordinary.  Outdoor lighting might be the extra factor that your backyard is lacking. Create the mood you want in your backyard oasis through a variety of lighting options.    
Swimming Pool Lighting
Adding lights to your pool creates an ambience that entices night swimming. There are many different pool light options. If you'd like to bring depth to your pool you may consider:
Spa Lighting: Transform your spa space with luxury swimming pool lighting. Adding lights to your spa will not only ensure your guests safety but can also set a mood of elegance and relaxation.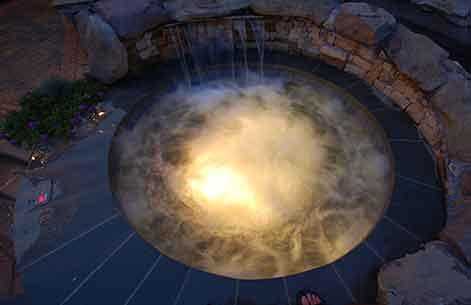 LED Lighting: LED pool lights can be installed in a niche within a pool's shell and are designed to operate under the water level. Many pool owners choose LEDs because they are energy efficient, have a long bulb lifespan, and do not produce heat.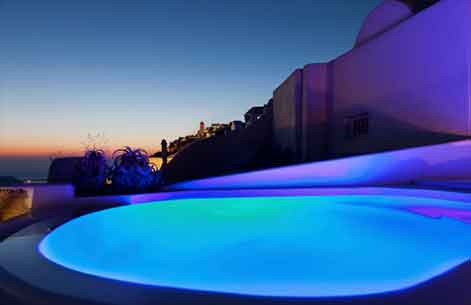 Halogen Lighting: is a generic cost efficient swimming pool light that does not include color and lacks the depth and drama that LED lights provide.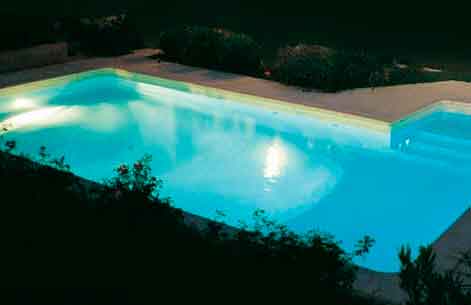 Fiber Optic Lighting: Fiber optic pool lights are located outside of the water. While fiber optic light bulbs are easy to replace, they are also costly and will require a fan to make sure the bulb stays cool.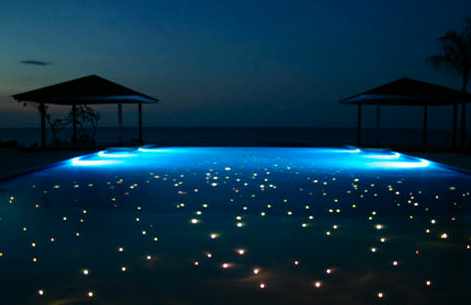 Landscape Lighting 
Accent lights provide great outdoor atmosphere and are designed to enhance your paths, walkways, gardens, and other outdoor landscaping. You can add dimension and depth to your backyard through pathway lighting, down lighting, up lighting, and silhouetting.
Pathway Lighting- Add style and safety to your backyard with pathway lighting. Pathway lighting should reflect the architecture of your home and match the rest of your yard.
Down lighting- is a term that describes a light fixture that strategically filters light downward and creates a romantic and mysterious effect in your backyard. Down lighting is typically dimmer than up lighting.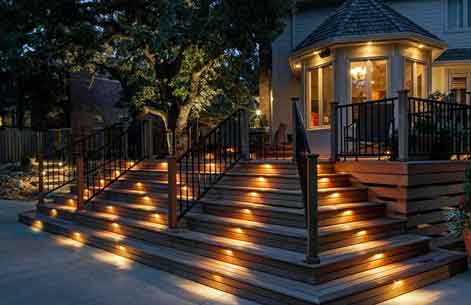 Up Lighting- is when a light is placed in front of and below and object. Up lighting can be used to illuminate trees, statues, and large focal points in gardens.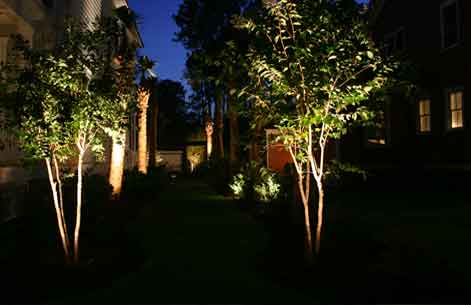 Silhouetting- provides a dramatic effect by placing a light behind an object. Silhouetting is used to show off items such as benches and statues.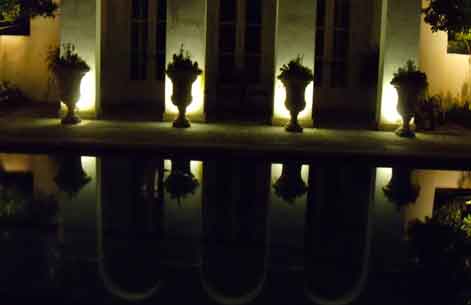 When designing a backyard lighting scheme always remember your light sources should provide a balanced and united composition. Add a warm inviting glow to your backyard through lighting designs, patterns, and light fixtures. Contact us BR Design Build today for more information and to plan your next landscaping illumination project.