A luxury pool without a spa is like a silver band without a diamond. There are many benefits to owning a luxurious custom design pool, but what is a pool without a spa?  A pool is a place to swim, play, and exercise — while a spa provides an intimate setting for you, your family, and friends to relax and converse.  When you choose a custom design pool, give yourself the opportunity to pick any pool and spa combination you want. The sky's is the limit when you are planning out and designing your backyard oasis. Get inspired with the following spa and pool combinations! 
Spa Types and Features to Explore and Consider: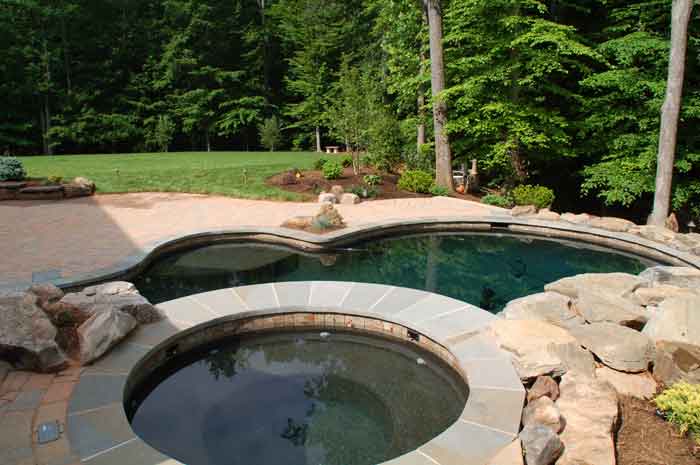 Pool with an Integrated Spa
You may wonder how it's possible to stay warm in a spa that is integrated with your pool. Due to a dam wall, the spa's warm water is left unaffected by the cool water temperature of a swimming pool.  An integrated spa also appears as if it is an integrated part of the pool itself and can be designed and custom built to fit any shape or size.
Attached Spa
An Attached Spa is distinguished from an integrated pool's spa by its defined wall, which separates it from the pool. There are two types of attached spas: in-ground and raised. An in-ground spa is typically built at ground level with the pool whereas a raised spa is raised from ground level. 
Spill-Over Spa
A Spill-Over Spa has become a popular spa option over the past number of years. A Spill-Over Spa is built to create a waterfall effect where a part of the wall is built lower so water can overflow from the spa into the pool.
Sheer Decent Spa
Sheer Decent Spas includes the combination of a pool, spa and a water feature such as a waterfall. The water feature or waterfall circulates water directly from the pool and empties out via the feature. This gives the distinct impression or appearance that the water is coming from the spa and entering into the pool, when, in fact, the water's source is drawn from the pool.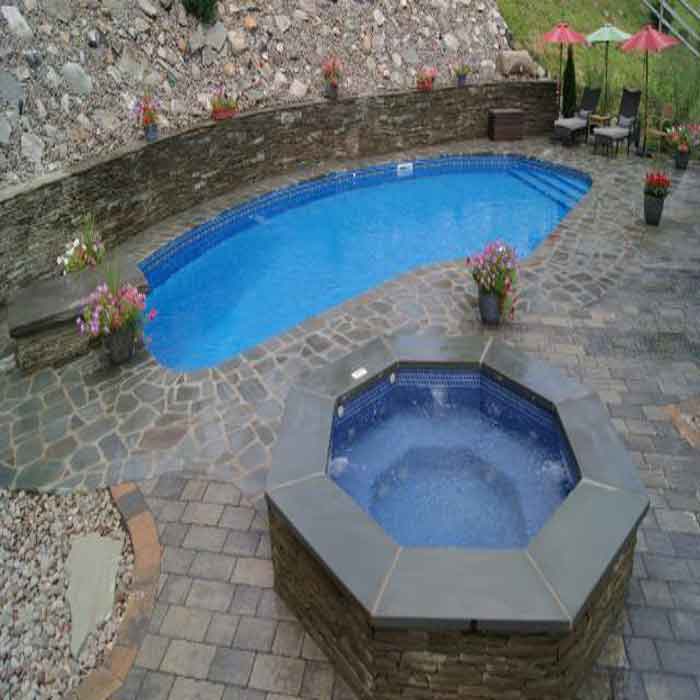 Detached Spa

A Detached Spa is a spa that gives the appearance that it was built separate from a pool. This option boasts a private setting for those seeking a place to get away from the ongoing activities that may be occurring in or around the pool itself.
Winter Disconnect Spa Option
Something to consider if you plan on enjoying your spa throughout the winter months. This design/plumbing feature allows the pump and water circulation of your spa to operate independently from your pool's pump.  Therefore allowing you can operate your spa during both warm and cold weather months without the need for winterization.