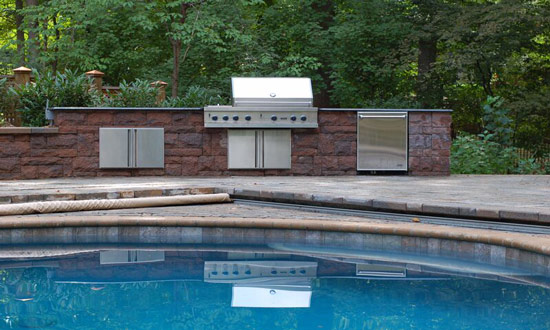 An outdoor kitchen adds an element of functionality to any space as well as a great social spot. Before you do anything it is important to consider how you actually see the space being used. An outdoor kitchen is only beneficial to you if it meets your needs. With BR Design Build you can create a completely custom outdoor kitchen that serves exactly the purpose you want it to. Consider these questions when planning your outdoor kitchen:
1)    What do you intend to use the space for?
Think about what the outdoor kitchen will be used for. If plan on doing all the prep inside, your main focus should be on the different appliances you want to have. If you plan on doing prep outside then you need to plan for a bigger counter space. Also think about whether you want to store barbeque tools and dishes in your outdoor kitchen. If so, then you need to reserve space for storage.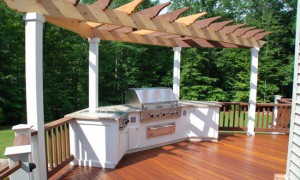 2)    Where is the right spot for your outdoor kitchen?
There is no "wrong" spot when it comes to deciding where to place your cooking center. You should look at your backyard and decide where it should belong. Some choose to have it on their patio so it is close by to the house. Others decide to have it freestanding in another area of the yard. It is all up to what your vision is for the space. For safety reasons it is best to put an outdoor kitchen at least fifteen feet away from the house. Many people choose to place it under a tall tree for shade.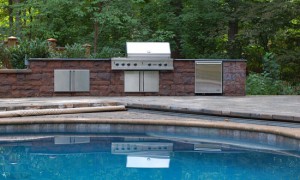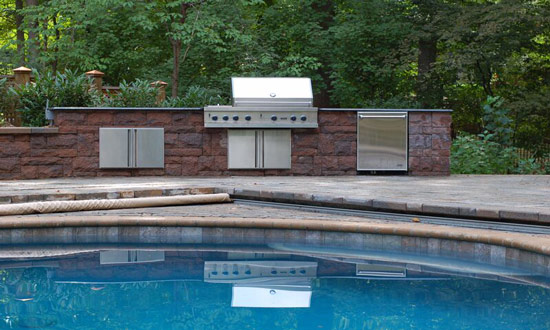 3)    What do you plan to cook outside?
What you plan to cook outside dictates what appliances you need. A grill is the obvious choice for an outdoor kitchen to make everyone's favorite barbeque dishes. If you plan on preparing side dishes you may want to add a stove, or even a small refrigerator to keep ingredients fresh while they are waiting to be cooked. The most popular outdoor kitchen appliances are grills with side burners, a warming drawer, and a sink. Keep in mind that any appliances need to be outdoor rated to withstand the extreme temperatures and weather.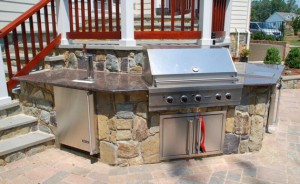 4)    Will you be entertaining with your outdoor kitchen?
If you want the space to also function as an entertaining area there should be plenty of counter space for the prepared food and drinks. You also want to consider creating a seating area so guests can socialize. Adding an island with elegant bar seats is an excellent way to provide an open space for guests to sit around and eat at. If you plan on entertaining you may want to add special amenities like a mini bar or a tap to serve drafts.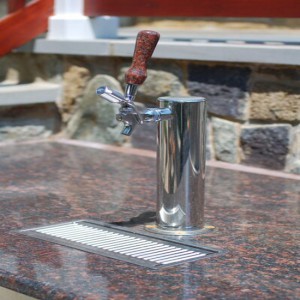 5)    Do you want to be able to wash your hands or dishes outside?
If you want to be able to clean up you should consider adding a sink or a dishwasher to your outdoor kitchen. If you want to save yourself multiple trips inside to wash your hands or get water for preparing food a sink is a smart addition. Adding a dishwasher will allow for quick clean up after everyone is done eating and will avoid having to transfer all of the dirty dishes into the house. Most people forget about a garbage can, but including one will keep the space tidy and make clean up a breeze.
Creating an outdoor kitchen is very similar to designing an indoor kitchen. Anything function you can have in an indoor kitchen can be added to an outdoor kitchen. Lighting is also an important element to add if you plan on cooking in the evening or hosting nighttime get togethers.
No matter what your vision is BR Design Build can help you make your dream outdoor kitchen into a reality. If you are interested in creating the perfect outdoor cooking center contact BR Design Build today.